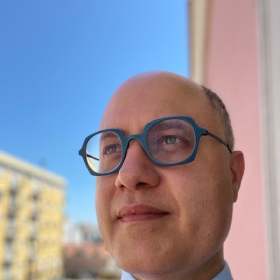 Luís joined EPSO as Head of the Outreach & External Relations Unit in February 2022. He became an EU official in 2002.
Before EPSO, Luís worked for 19 years for the General Secretariat of the Council of the European Union. In the Council, Luís had a varied career, working with media affairs, intelligence reporting, crisis management, EU-Africa relations, IT, security, the Middle East, defense policy, and translation. Before joining the EU, he worked for several European NGOs in the fields of education, youth policy, youth volunteering, and philanthropy.
Luís' vision for Outreach & External Relations underscores the importance of visual communication and storytelling, putting the accent on the human factor. Luís is fully committed to working in partnership with EPSO's institutional clients and national stakeholders. Moreover, he firmly believes in the importance of attracting a more diverse talent pool to EU Careers.
Luís is proud of his Portuguese and Angolan heritage. Outside work, Luís enjoys reading and dancing. He is married to a Swede and the father of a teenage girl born in Chicago.