Working and living in Luxembourg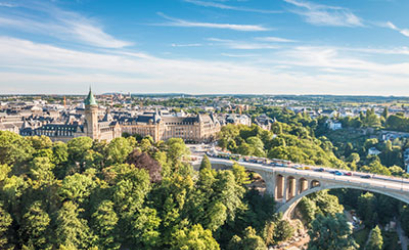 Located at the crossroads of France, Belgium and Germany, Luxembourg is famed for its cosmopolitan vibe coupled with its renowned quality of life and outstanding living standard.
No wonder it is one of the happiest countries in the world.
A true microcosm of European diversity, this prosperous nation is home to 645,000 people of more than 170 different nationalities, speaking some 80 different languages.
The country and its capital – Luxembourg City – are a unique example of tradition and modernity, blending contemporary buildings, castles and spectacular nature. All within a short walk or drive from each other.
Disclaimer: please note that EPSO cannot be held responsible for the links provided by external entities and made available on this webpage.
In recent years, many international companies have chosen Luxembourg as their headquarters, joining numerous EU institutions, agencies and bodies.
Currently boasting the world's third highest GDP per capita and the largest private banking centre in the Eurozone, Luxembourg has become increasingly attractive to skilled professionals. The country's expanding international job market is highly appealing to spouses of EU civil servants in search of attractive work opportunities.
Luxembourg's economic growth and development has fueled a population increase and created an open society where everyone feels at home. Cultures and languages mix seamlessly and families and singles alike can easily make friends.
In this multilingual nation, English, French, German and Luxembourgish are the four most spoken languages. With expats making up almost half of the total population, daily life also unfolds in Portuguese, Italian, Spanish, Polish, Swedish, Finnish, Romanian, amongst others.
In addition to a flourishing economy, Luxembourg offers a wide range of benefits, such as:
A comprehensive, generous and effective social security system. This includes family benefits like birth allowance, maternity and paternity leave, adoption and parental leave, 20 hours of free childcare per week for every child, pensions, education assistance, financial aid to purchase an electric or hybrid vehicle, financial aid for housing (renting or constructing), generous family allowance & child benefits, among many others.
High-standard, state-funded healthcare granting everybody basic medical coverage.
An exceptionally safe and family-friendly environment, highly popular with the expat community.
A multilingual education system - including educational structures for children with specific needs - that is mostly free and state-run. Two European Schools for EU staff children and six accredited European Schools are part of this network. At a higher educational level, the University of Luxembourg is one of Europe's most international, multilingual and interdisciplinary academic institutions, attracting students from 130 countries.
The world's first – and only – countrywide free public transport, built on an ever increasing tram and bus network. Watch how people in Luxembourg travel freely by bus, train and tram.
High-speed digital connectivity across the country: 88 % of households are covered with ultra-high speed broadband.
Luxembourg sprawls harmoniously between city and nature, extending from urban and historic buildings to lakes, hills and forests.
The country's serene and diverse landscape keeps families and individuals entertained and is perfect to unplug from daily life stresses.
Whether on foot or on wheels, exploring Luxembourg means embarking on a whirlwind tour: from Luxembourg's old city center – a UNESCO World Heritage site – to castles perched on hilltops, plateaus, valleys, rivers and the first European cross-border nature reserve.
Respect for the environment is paramount in Luxembourg and when it comes to having fun, nature is your ally here. A large network of hiking trails and 600 kilometres of cycling paths make eco-friendly, cross-country travel possible and safe.
Water lovers can choose from a wealth of activities such as canoeing, kayaking, water skiing, swimming, paddle boarding, fishing, and much more.
A wide array of resolutely international leisure and culture activities offer entertainment opportunities for everybody, including families.
Learn more about the multilingual network of European Schools in Luxembourg where many children of EU staff go to school.
European School, Luxembourg I (Kirchberg campus): www.euroschool.lu
European School, Luxembourg II (Mamer campus): www.eel2.eu